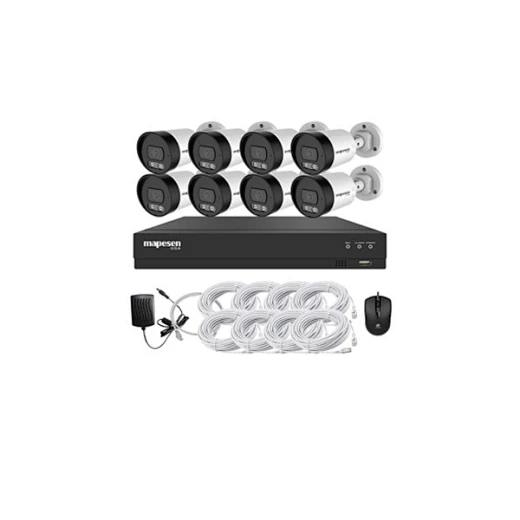 8MP Lite 8 Channel Bullet Camera System With AcuSense
NVR208PL2IQ80XLFA2
8MP Lite 8 Channel Bullet Camera System With AcuSense
· S265/H.265/H.264 Encoding,Saving Half Storage Capacity with Our NVR.
· F1.6/4mm Fixed Lens(2.8mm/6mm/8mm optional).
· Smart Hybrid Light (Able to set Intelligent Mode/Infrared Mode/Full Color Mode by NVR or APP),
  IR Distance 30~35m,Full Color Distance 10-15m.
· With 6 kinds Intelligent AI Analysis Function.
· Embedded with Intelligent Humanoid Tracking Capture Algorithm, Supporting Humanoid and 
  Vehicle Detection In Complex Environments.
· With Face Lighting Function, Backlight See Clearly License Plate Function Under 30KM/H
  (Can not be Used Simultenously).
· AI Humanoid Detection/Tracking & Motion Detection Alarm,Support Alarm Detection Area Setting,
  Alarm  Linkage Voice Broadcast with Customized Contents.
· Two-way Audio, NVR support 3.5mm Audio Input and Output,can Connect External Active Audio 
   Equipment to Support PA System. 
· Able to Select Intelligent Analysis Video Playback.
· Suppport APP Remote Viewing and Playback,APP can be Shared with 32 Users,PC Client Remote 
  Viewing.
· Max 1PC 16TB HDD Storage, DC12V / POE(IEEE.802.3af),HMTL5 Plug-in Free.
· AGC,DWDR,3D DNR, BLC,4KV Lighting Protection,Metal and Plastic Bullet,IP66 Waterproof.